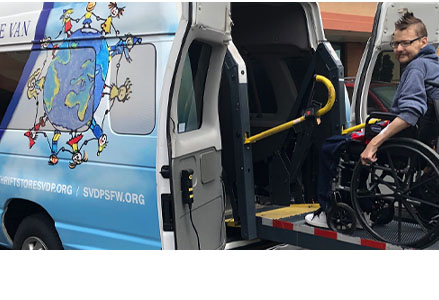 Our Care Van provides transportation free of charge for those in need of transportation to and from Medical and Rehabilitation care appointments. Clients are transported in our state-of-the-art van which is handicap accessible and operated by our many volunteers, who make this mission possible. Our Care Van operates between 8 and 9 hours per day, driving from 500 to 600 miles per week. Transporting some 1500 clients over 30,000 miles per year.
The Saint Vincent de Paul Society of Fort Wayne began its Care Van service over thirty years ago and continues today because of the generous support from Rider Donations and the help from donors and benefactors of the Saint Vincent de Paul Society.
For assistance with Care Van. Please call 260-456-3561, press 2 or 260-416-7479 at the prompt and one of our volunteers will assist you.